How Do Hosted Barcode Generators Work?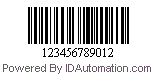 The IDAutomation Hosted Barcode Generator Service is a subscription-based online barcode generator that allows the ability to generate many different barcode types based on parameters specified via web URL. Active subscribers to the service receive a special URL which is customized for their use. Simply reference the URL given after the order was placed, followed by a set of commands that essentially tell the barcode generator which type of barcode to generate, what data to encode in the barcode, and several other aspects related to specific properties and standards.
A hosted barcode image generator service has many advantages over other methods of generating barcodes in environments that can access a web address. Dynamic barcodes can be easily generated for online orders and ticketing, dynamic barcode generation for documents, among others.
The IDAutomation Hosted Generator supports many different barcode types including Code 39, Code 128, Intelligent Mail, UPC, EAN, QR Code, UID Data Matrix, PDF417 and many others. This is a yearly subscription-based service that is hosted by IDAutomation, which means you only need the URL to begin generating barcodes online.
You may test the functionality of this product with the
free online barcode generator
to see whether it is right for you. Questions or comments? Let us know!